Televisor Philips The One 43PUS8558 43"/ Ultra HD 4K/ Ambilight/ Smart TV/ WiFi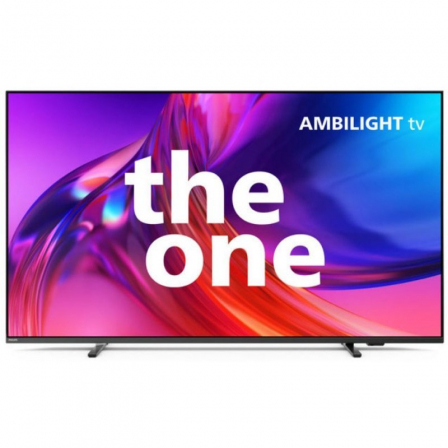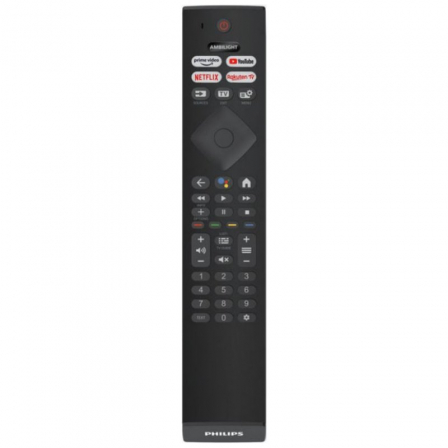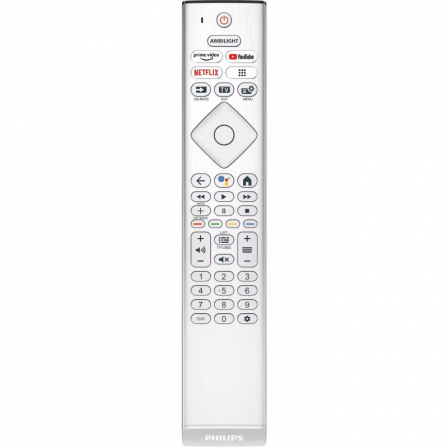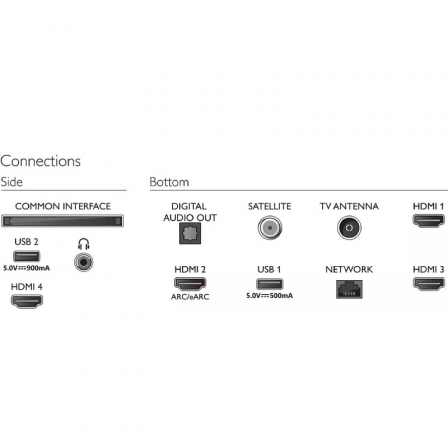 | | |
| --- | --- |
| Marca: | PHILIPS |
| P/N: | 43PUS8558/12 |
| EAN: | 8718863037645 |
| Disponibilidad: | Disponible |
El único que lo tiene todo.
Televisor 4K Ambilight
Dale sabor a tu tiempo libre con este único. Este televisor 4K con Ambilight te sumergirá en todo serie, película y juego! Obtiene una calidad de imagen deslumbrante, todas las aplicaciones de transmisión esenciales también soporte que se adapta fácilmente a la barra de sonido.
The One. Un televisor LED 4K con Ambilight que lo tiene todo.
The One con tecnología inmersiva Ambilight.
El que proporcionará emoción. Procesador de imagen perfecto P5.
El Uno con Dolby Vision y Dolby Atmos

gran foto Sonido flexible. Responsable

embalaje.

Imagen extremadamente nítida y vívida.
Pensando en el futuro.
Sistema doméstico inalámbrico de Philips con DTS Play-Fi
Apariencia atractiva. La altura de la base se ajusta a

barra de sonido

Gran sonido de su televisor y fácil adición de barras de sonido o

Altavoces
Prepárese para el entretenimiento que ama.
Le encantan los juegos. 60 Hz, latencia extremadamente baja. tecnología VRR, FreeSync
El entretenimiento que amas con un poco de ayuda de Google.
Control de voz. Asistente de Google. Funciona con el servicio de Alexa.
Frecuencia de actualización nativa de 60 Hz. Claridad Ultra Motion 120

Hz.
Procesador de imagen perfecto P5
El procesador Philips P5 te ofrece una imagen tan buena como tu favorita entretenimiento. Los detalles tienen notablemente más profundidad. Los colores son vivos y tonos de piel naturales. El contraste es extremadamente claro y le permite ver cada detalle, y el movimiento permanece perfectamente suave.
Dolby Vision y Dolby Atmos
Con Dolby Vision y Dolby Atmos, las películas, los programas y los juegos se ven y se sienten suenan increíbles. Mira la imagen que el director quería mostrarte, no está allí ¡escenas ya decepcionantes que son demasiado oscuras para ver!
Escuche cada palabra con claridad. Experimente los efectos de sonido como si la acción está sucediendo a tu alrededor.
Imagen increíblemente nítida
Lo que sea que estés viendo, este televisor ofrece una claridad brillante y ultranítida imagen de colores vivos. Además, este televisor 4K UHD con el sistema
Ambilight es compatible con todos los principales formatos HDR, por lo que verá más detalles, incluso en áreas oscuras y brillantes, al transmitir contenido HDR.
Embalaje responsable
le encantan los juegos
¿No puedes esperar para jugar? Televisor de 60 Hz con Ambilight o HDMI 2.1 admite juegos de ritmo rápido y el modo Ultra Motion Clarity ofrece imagen más nítida y suave. Cuando enciendes la consola automáticamente la configuración de latencia ultrabaja está activada y el modo de juego
Ambilight hace que la emoción sea aún mayor.
Google TV™
¿Qué quieres ver? Google TV reúne películas, programas y más de sus aplicaciones y suscripciones y las organiza para usted. Recibirá sugerencias sobre según lo que le guste, incluso puede usar la aplicación Google TV en su teléfono, para crear una lista de reproducción para ver en cualquier lugar.
Control de voz impulsado por IA
DTS Play-F
Especificaciones
Ambilight
Ambilight versión de 3 caras
Funciones de Ambilight Funciones integradas de Ambilight + Hue
Adaptarse al color de la pared
Modo lounge
Modo de juego
Música Ambilight
Despertar de Ambi
AmbiSleep
Altavoces inalámbricos para el hogar
Philips [Compatible con

altavoces inalámbricos

casa philips]

Ambilight Aurora
Animación de inicio de la función.
Ambilight
Imagen/Pantalla
Pantalla LED 4K Ultra HD
Diagonal de la pantalla

(cm)

108cm

Resolución del panel 3840 x 2160
Frecuencia de actualización nativa

60 Hz

Motor gráfico P5 Procesador de imagen perfecto
Funciones de mejora
Visión Dolby
HDR10+
Micro atenuación profesional
movimiento natural
Amplia gama de colores - 90%
Espacio DCI/P3
Soporte CalMAN
HLG (Hybrid Log Gamma)
Resolución de entrada de pantalla
Resolución -

Frecuencia

actualizar

576p-50Hz

640x480-60Hz

720p-50 Hz, 60 Hz

1920x1080p - 24 Hz, 25 Hz, 30 Hz

, 50 Hz, 60 Hz

2560 x 1440 - 60Hz

3840x2160p - 24 Hz, 25 Hz, 30 Hz

, 50 Hz, 60 Hz

Televisor Android
Sistema operativo Google TV™
memoria disponible
Flash 16 GB*
aplicaciones preinstaladas
Vídeos de Google Play*
búsqueda de Google
YouTube
netflix
Apple TV
iPlayer de la BBC
Vídeos de Amazon Prime
Disney+
Música de Youtube
aplicación de fitness
GeForce ahora juego en la nube
Etapas
Procesador
Potencia de procesamiento de cuatro núcleos
Características de la tecnología Smart TV
Televisión interactiva
Hbb TV
Control remoto habilitado por voz
Control de voz* Asistente de Google integrado
Piloto con un micrófono
Funciona con Alexa.
Sintonizador/Reproducción/Transmisión
Televisión digital DVB-T/T2/T2-HD/C/S/S2
Guía de televisión*
Programa electrónico para 8 días
Hipertexto Teletexto (1000 páginas)
Indicador de intensidad de la señal Sí
Soporte HEVC Sí
Fuerza
Red eléctrica 220-240V CA, 50/60Hz
Consumo de energía en modo

preparación

<0.3W
Funciones de guardado

energía

Temporizador de apagado automático
Silencio de imagen (para radio)
Modo ecológico
Sensor de luz
Sonido
Códec DTS:X
Dolby Digital MS12, V2.6.1
Potencia de salida
(valor eficaz)

20W

Configuración de altavoces
2 altavoces de rango completo de 10 W
Funciones de mejora

sonido

sonido artificial
Diálogos claros
dolby atmos
Refuerzo de graves Dolby
Ajuste de volumen Dolby
modo nocturno
corrector de IA
DTS Play-Fi
Personalización del sonido Mimi
Calibración de la habitación
Opciones de conexión
Número de entradas HDMI 4
Número de entradas USB 2
conexión inalámbrica
Conectividad Wi-Fi de doble banda
802.11ac 2x2
Bluetooth 5.0
Funciones HDMI 4K
Canal de retorno de audio (ARC)
HDMI ARC Sí, a través de HDMI2
Características HDMI 2.1 eARC sobre HDMI 2
Compatibilidad con eARC/VRR/ALLM
tasa de datos 48

Gbps

HDCP 2.3 Sí - todas las entradas HDMI
EasyLink (HDMICEC)
Transmisión de haz piloto
Control de sonido
Modo de espera
Juego de un toque
EasyLink 2.0 HDMI-CEC para televisores
Philips/SB [Estándar HDMICEC patentado para televisores Philips/SB]
Ajuste externo con

Interfaz de TV [Configuración

barra de sonido externa usando

interfaz de televisión]

Otras conexiones Common Interface Plus (CI+)
Ethernet-LAN ​​​​RJ-45
Salida de audio digital (óptica)
salida de auriculares
Conector de servicio
Toma de antena de satélite
Funciones de vídeo HDMI compatibles
juegos ALLM
HDMI VRR
Juego Dolby Vision
Premium de AMD FreeSync
HDMI 1/2 HDMI 2.0
HDMI 3/4 HDMI 2.0

grabadora con

disco duro

Visión Dolby
HDR10
HLG
HDR10+
Aplicaciones multimedia
Formatos reproducibles

video

Contenedores: AVI, MKV,

H264/MPEG-4 AVC,

MPEG-1,

MPEG-2,

MPEG-4,

VP9,

HEVC (H.265),

AV1

Formatos admitidos

subtítulos

.SMI
.SRT
.SSA
.SUB
.TXT
.CULO
Formatos reproducibles

música

CAA
MP3
WAV
WMA (v2 a v9.2)
WMA-PRO (versión 9 y 10)
FLAC
Formatos de reproducción

imagen

jpeg
BMP
gif
PNG
360 fotos
HEIF
Diseño
TV color marco gris antracita
Diseño vertical Patas gris antracita

equilibrio

Dimensiones
Ancho de caja 1100.0 mm
Altura de la caja 695 mm
Fondo de caja 140 mm
Ancho del dispositivo 963,0 mm
La altura del dispositivo es de 557 mm.
Profundidad del dispositivo

77,1 mm

Ancho del dispositivo

(con fondo)

963,0 mm

Altura del dispositivo

(con fondo)

584/629 mm

Profundidad del dispositivo (con base)

226 mm

Peso del producto 8,8 kg
Peso del producto (incl

base)

9,2 kg

Peso con embalaje

12 kg

Vesa Compatible

100x200mm [100x200mm]

Ancho base 785 mm
Profundidad de la base 226 mm
Altura base 26/71 mm
Distancia entre 2

lo esencial

785 mm

Altura de la base

hasta el borde inferior

Accesorios
Accesorios incluidos Piloto
2 pilas AAA
Soporte de escritorio
Cable de alimentación
Guía de inicio rápido
Folleto Legal y

seguridad